Ask Surfbirds Categories
Pick one of the categories below that you have a question on. Click the link and ask your question by filling in the form and you will get a prompt answer from an expert!
Visit Our New Community! BirdChat is the friendliest group on the web. Ask your question and get advice.
Guide to Backyard Bird Feeding
Backyard Bird Feeding Questions
Looking for a Free Bird Checklist

Have you seen a Rose-breasted Grosbeak at your feeder this spring? This is a large attractive finch with black and white upperparts and a red breast. Photo © Roy Harvey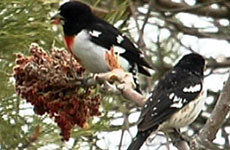 Q: First time sighting of a beautiful soft yellow bellied, bright yellow tipped tail. Two small bright red tips on back. Most distinctive black marking around eyes resembling a mask. Similar to a cardinal in size. seen eating viburnim berries in south central Wisconsin in a group of about 40. April 20th. Body color is soft grey,as they blended perfectly in our white oaks. Thanks for your help! Russ
A: Hi Russ, your birds were Cedar Waxwings (they get their name from the red tips on their wings like drops of sealed wax). Here's a photo posted to Surfbirds and © John C.Folinsbee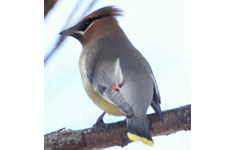 Visit Our Nature Store
Shop in a safe, secure store for birding CDs, audio guides, books, bird feeders, coffee, gifts and more.
We carry over 7,000 nature items. All sales benefit the Cornell Lab of Ornithology.


Click to Browse our store
More Resources
Professional experts are at the receiving end of all your questions. They were chosen because we believe them to represent companies that are at the top of their field and are, therefore, the most experienced to answer your questions. Companies do not pay to be represented here. They will endeavour to give you the most helpful and impartial advice to your question.

Your e-mail address will be used strictly for correspondence on your particular question. It will not get added to any mailing lists without your written consent. Privacy Policy If you see any abuse of this policy please contact us.

• Add an AskSurfbirds Box to your website!
---
We're also looking for individuals or companies that would like to be an expert in one of the following categories: